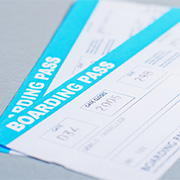 In order for a State traveler to use an unused ticket the unused ticket generally has to be used and/or travel completed by 1 year of the original "ticketing date" with the same airline - NOT the original travel dates or ticket cancellation date. 
If you are a TTE user, unused tickets (within the valid time frame) are listed in the traveler's Concur home page. Whether a ticket is reserved online in Concur or directly with an agent, Travel Inc's automated ticket scripting process identifies any unused tickets (on the same airline) and attempts to apply them to the new ticket.  
In addition to the one year ticketing deadline, there are often other parameters that the airlines require to be able to apply funds from the original ticket, including class of service, fare basis, itinerary. There is no guarantee that unused funds can be applied to any and all new tickets.