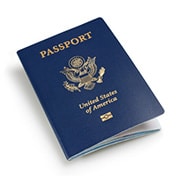 Passport book: This is a document a country issues to its citizens to permit international travel and to enable re-admittance back into the home country. For USA citizens, it's issued by a branch of the U.S. State Department. As its name implies, it's a booklet with 20 pages. 17 of these may be used for visa and immigration stamps; the remaining 3 pages are for endorsements.  Frequent travelers can request a 52-page book and have pages added to a current passport in packets of 24 pages. For holders who are age 16 and older when the book is issued, it's valid for 10 years.
Some countries have certain restrictions and may not allow entry if you have less than a specific number of blank visa pages in your passport, which may or may not need to be consecutive.
Passport card: Issued to U. S. citizens, the passport card also allows international travel. However, its use is limited to travel by land or sea (not air) to/from Canada, Mexico, Bermuda and the Caribbean region. The passport card is less expensive than a passport book, with a further price discount if the traveler currently holds a passport book. For travelers who frequently travel by land or sea to those aforementioned countries, the passport card is easier to carry as it is the size of a credit card.