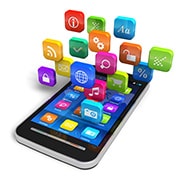 There are over thousands of apps available in the world that make our lives easier. But with so many new apps that are now available, sometimes a simple note or picture can do the trick. Below are just a few practical ways to use your smartphone when traveling: 
Take a picture or make a note of your Taxi Cab number and license - do this when you get out of the cab. That way if you forget something (your laptop or luggage) you know where to find it.
Take a picture or make a note of your hotel room number - most hotel keys do not specify a room number. This way you can remember what hotel room you're occupying. Don't worry if you forget your hotel, Travel Incorporated's eItinerary has that information.
Take a picture of your car in the parking lot - This is an easy way to find your car in a crowded parking lot. Make sure to get one of the letters/numbers in the pictures.