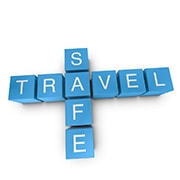 Several federal agencies offer advice and information on the Internet that can help insure you have a safe trip. For advice on:
Airline, highway, and rail safety information- Check out the U.S. Department of Transportation. Look up crash-safety reports on cars or find out how weather is affecting air travel and road conditions.
Safe travel by air, land and sea- Contact the Transportation Security Administration. They post tips on dealing with airline security checks, traveling with kids, and warnings on prohibited items.
Health-related travel information - Consult the Centers for Disease Control and Prevention. Research vaccination requirements, find information on how to avoid illnesses caused by food and water, and review inspection scores on specific cruise ships.