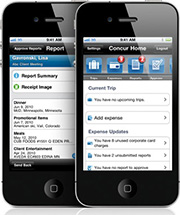 Did you know that TTE travelers with the Concur Mobile app can snap a picture of a receipt with their Smartphone inside the TTE app? Then travelers can elect to send it as an expense item and the receipt image and the expense go into Available Expenses just like rental cars, etc... as an out of pocket expense.
It's really a timesaver!
As a reminder the Concur app is FREE and allows TTE travelers to manage and track business travel.
View credit card transactions and add them to expense reports
Capture receipts with your camera phone
Submit and approve expense reports
Book airfare, hotels and more
Manage flight, hotel and car itineraries
Check flight status
Approve travel requests
Change/cancel reservations