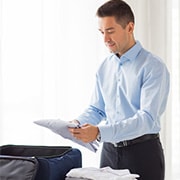 Packing for vacation is exciting­. Just folding your swimsuits and stowing your flip flops can get you set for the leisure days ahead. However, packing for a business trip teems with a different type of excitement: anxiety. What should you bring and what can you expect? Here are 7 items never to forget on a business trip. 
Business cards - Business cards are one of the best ways to network. It is never a good idea to run out of business cards while traveling. 
Multi Charger - A multi charger can charge your laptop, phone, or even an electric razor.
Flash drive - Even though you have emailed yourself that important presentation you definitely want to have a backup.  You can keep presentations and reports at your fingertips. 
Extra battery - Are you on a layover at a report and can't charge your computer? Do you still have a deadline to reach and the battery is flashing 5% left?  Here is your life saver.  Bring an extra battery!
Breath Mints - As obvious as it may sound – I can assure you from experience that many people have no idea they need them!
Hand sanitizer - Using hand sanitizer after shaking many, many hands brings far less colds. Just be tactful about the way you use it. Don't desperately spray your hands every time you shake someone's hands or else you will be acting like a person who has a germ phobia. (That may be okay in some cases)
Carry-on luggage with four wheels - You'll save time and money if you can fit all your business-trip needs into a carry-on bag. Look for high-quality luggage with four wheels that's made from materials meant to withstand a few travel bumps and bruises.