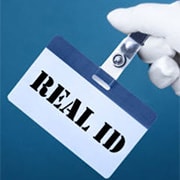 Starting sometime in 2016 (TBD), air travelers carrying a driver's license from certain U.S. states and territories will need to carry a second, U.S. government-approved form of ID. This is because their driver's licenses won't meet federal REAL ID standards.
What is the REAL ID Act?
The REAL ID Act sets standards for the issuance of sources of identification, such as driver's licenses. The Act established minimum security standards for state-issued driver's licenses and identification cards and prohibits Federal agencies from accepting for official purposes licenses and identification cards from states that do not meet these standards.
When is this happening?
The U.S. Department of Homeland Security (DHS) hasn't yet announced exact roll-out dates. DHS will ensure that the traveling public has ample notice (at least 120 days) before any changes are made that might affect their travel planning.
So will I need a passport for domestic air travel starting January 2016?
No. Until enforcement at the airports begins, the Transportation Security Administration (TSA) will continue to accept state-issued driver's licenses and identification cards from all states, as well other forms of acceptable identification listed on the TSA website.
I should look into this. Where do I start?
Here's what we found...