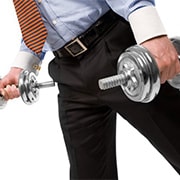 No Gym, No Problem: Cardio is relatively easy to fit in because you can run, walk or jog anywhere. Strength training can be harder. You may be lucky enough to be in an area with a child's playground which is great for body weight exercises. Another option is to bring some resistance bands with you. These are compact and take up a minimal amount of space in your bag and you can use them anywhere.
Watch What you Eat: In order to keep your body in peak condition, nutrition is important. Try to access a kitchen around once a week. You can cook all your meals for the next week and place them into small, compact Tupperware box. Most hotels have microwaves, so you can easily heat it up. 
Time is Money: If you have a busy schedule, fitness might be the first thing you decide to push out of your schedule. Ensure that you are spending as much time as possible on fitness and your health. Remember a little can go a long way.
Counting Sheep: Sleep is a very important factor to being healthy. Sleep is necessary to help your body recover. The only way you can grow muscle or burn fat is to make sure you get the right amount of sleep. Create a set time for when you will sleep. Make sure you are getting between 7 and 9 hours a night. 
Source: Huffington Post