---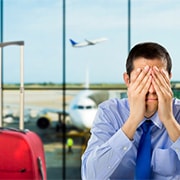 Are you tired of your flights being cancelled at the Airport? Recently there have been numerous reports of Airport delays and flight cancellations.  There are numerous ways an employee can change his or her reservations. While we understand frustrations and concerns. Concur and Travel Inc. is available 24 hours if you have access to a smart phone. The following information provided is a second life line if you are delayed at the airport of if your flight is cancelled. 
*Note - fees may apply for contacting a travel agent directly.
www.concursoultions.com - Download the Application on your phone. Manage Travel & Expense Anywhere, Anytime.     
Concur Travel Policy or Expense Questions - Contact your Concur Expense Administrator at 404.657.3956 or 1.888.896.7771 (option 3) or send email to sao_travel@sao.ga.gov.
Concur Travel Technical Support - Call Travel Inc. Online Technical Support at 866-738-6444.
Book Reservations via a Travel Consultant - Contact Travel Inc. Consultant Team at 770.291.5190 Available 24 hours (Local) 877.548.2996 (Toll Free) or Email - SOG@travelinc.com