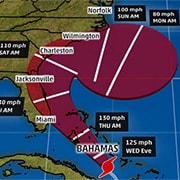 As Hurricane Matthew barreled up the Caribbean Wednesday, people along the Atlantic coast from Florida to South Carolina prepared to move to safer ground, as officials warned that hundreds of thousands of people would have to evacuate.
If you're currently scheduled to travel to any part of Florida or South Carolina please check the statuses of flights.  More than likely you will need to re-schedule. 
Flights can be re scheduled in Concur.  However, if you have questions about credits and or re-scheduling please contact sao_travel@sao.ga.gov 
Hotels can also be cancelled in Concur and the employee would also need to contact the hotel directly for cancellations. 
Travel Inc. is available 24 hours a day however, most reservations can be modified in Concur.  The following is contact information for any concerns. 
Remember safety first! 
SAO Travel Contact your Concur Expense Administrator at 404.657.3956 or 1.888.896.7771 (option 3) or send email to sao_travel@sao.ga.gov
Travel Inc.  770.291.5190