November 16, 2023
November 2023 NextGen Newsletter
What's New  
Data cleanup is underway! As the state prepares for the transition to the Workday platform, and with new opportunities to showcase, centralize and share data, the project team is launching its first round of cleanup efforts with agencies across the enterprise to ensure the information going into the new system is vetted and verified. 
This week, the team is reaching out to agency contacts to begin addressing some of the issues where data needs to be reviewed, validated or revised. The data cleanup effort will span several months. Data issues currently under revision include: 
Finance: Open purchase orders from FY 2020 and before 
HCM: Unapproved time from July 2023 and before 

Procurement: Partially awarded / unawarded events from FY 2023 and before 

Procurement: Open contracts from FY 2019 – FY 2023 

Procurement: Open P-Card transactions from FY 2023 and before 
The NextGen Project Team sends a big THANK YOU to agency Points of Contact who are helping share this information within their agencies. Stay tuned for more information on data cleanup efforts. 
What's Next  
Project Kickoff | Dec. 5 
NextGen's System Implementer, Deloitte, will be hosting an Implementation Project Kickoff on December 5 for the now more than 300 project team members. That week, Deloitte will also host several meetings with groups of stakeholders to launch various project activities. Please be assured that if you do not receive an invitation to join these meetings, your interests are being well represented by the team.    
You Oughta Know  
Small groups of workstream leads and other project leaders have started taking Workday courses to gain an understanding of fundamental and foundational information for Human Capital Management and Finance / Procurement functions. These sessions provide preparation for upcoming design workshops as workstream leads and subject matter experts gear up to design, configure and test the system for Georgia's business needs. 
Project Structure 
As the project progresses through Phase 2: Implementation, the project team has grown to include subject matter experts from across the State who will collaborate to support one or more of the 32 project workstreams. Their knowledge and experience will be critical in ensuring these important business functions are configured to best serve Georgia's future workforce. 
Project Structure.jpg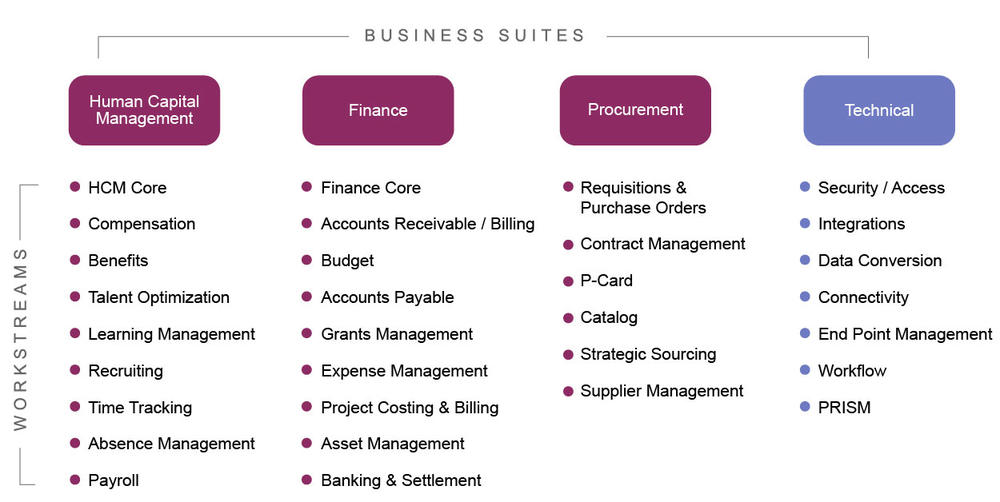 Related to: