October 13, 2023
October 2023 NextGen Newsletter
THE NEXTGEN PROJECT AIMS TO MODERNIZE THE STATE'S ENTERPRISE RESOURCE PLANNING (ERP) SYSTEM BY REPLACING PEOPLESOFT FINANCIALS AND HUMAN CAPITAL MANAGEMENT WITH A NEW CLOUD-BASED SOLUTION THAT WILL PROPEL GEORGIA GOVERNMENT INTO THE FOREFRONT OF TECHNOLOGY AND CHANGE THE WAY WE DO BUSINESS. CLICK HERE TO LEARN MORE.
What's New
Deloitte Contract Signing.jpg
The NextGen Project has reached another major milestone! Deloitte has been selected as the project's System Implementer! This selection officially kickstarts Phase 2 (Implementation) of the project! 
Project Resources Identified 
Invitations have been sent to subject matter experts throughout the State enterprise to serve as part of the implementation team. Those experts will serve in various roles, lending expertise in Human Capital Management, Finance and/or Procurement as we work with Deloitte to build out what Workday will look like for Georgia.  
That doesn't mean others are left out. As the project progresses there will be opportunities to review new process designs, participate in testing and training.  
Thank you to everyone who has already or will be participating as part of this project. Your knowledge and time are critical to the success of NextGen! 
What's Next
With Deloitte onboard as NextGen's System Implementer, the project is now entering Phase 2. As Phase 2 picks up, implementation activities will begin. The project team will participate in a project launch, engage in Workday configuration training, begin development of our new foundation data modelmodel, and start scheduling design sessions with Deloitte.  
NextGen Project Phases 
NextGen Phases.png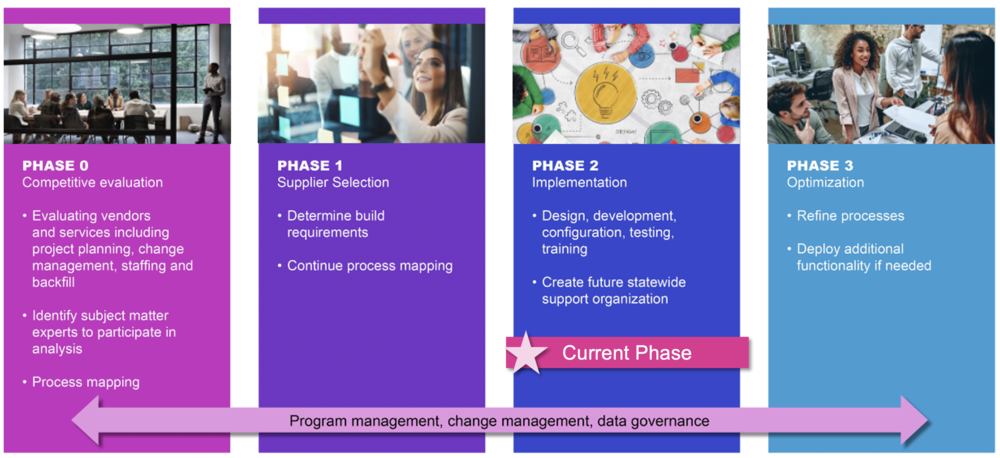 During Phase 2, the team will continue working with agencies on data cleanup, preparing data to be incorporated and centralized in the Workday system. Some of the current efforts include resolving open purchase orders (PO) from the prior fiscal year (FY), FY23 requisitions with no corresponding open PO, and out-of-date contracts that are no longer needed. Analysts are reviewing specific cases, such as unapproved leave, and are reaching out to agencies to guide them through the clean-up process. Data cleanup efforts will occur during the remainder of 2023 and into 2024. 
You Oughta Know
Workday Rising Photos.jpg

Workday
A few members of the NextGen Team attended the Workday Rising Conference Sept. 26-29 in San Francisco. It was a great opportunity to see how other governments and organizations around the country are implementing Workday for their employees. 
Workday By the Numbers 
Workday By the Numbers.jpg

Related to: